Leonora House (CQC rating: Good)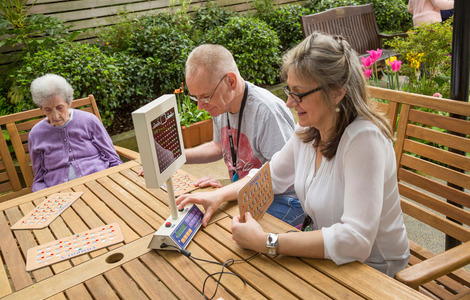 Located at 49 Lanark Road in Maida Vale, Leonora House offers 21 one-bedroom flats, each of which features en-suite facilities and its own kitchen and living area. We also have 5 open-plan studio flats which include en-suite facilities and a small kitchen area. Residents of our studio flats share use of a large kitchen, dining and lounge area. Everyone is free to spend time in our attractive garden.
We encourage each resident to live as independently as possible and make sure that the care and support we provide is tailored to each person's individual needs. Leonora House is fully wheelchair-accessible.
What Leonora House can offer you
24 hour care and support
Our care team is on-site day and night, every day of the year, so you will always have access to the support you need. Tasks that we can help you with include personal care, preparing and cooking meals, shopping, cleaning, laundry, organising repairs to your home, budgeting and benefit claims.
A homely environment
Our one-bedroom flats are unfurnished and our studio flats are partially furnished, so you can bring your furniture and belongings with you. Visitors can come to see you at any time and family members are welcome to stay overnight with you.
Social activities
We offer a wide range of activities, including gentle exercise and yoga classes, Irish dancing, arts and crafts, flower arranging, bingo, hand massages, film evenings and reminiscence sessions. Once a fortnight, we all get together for a special lunch or dinner and we also organise a number of parties for residents and their guests throughout the year. If you would like to attend activities in the community, we can support you to do that too.
Residents can choose to attend the two day care and activity groups that we offer at Leonora House. Our group for older people runs on Tuesdays and Wednesdays, and our group for younger adults with physical disabilities runs on Mondays and Thursdays.
Safety and security
The building is equipped with a secure entrance system, CCTV and a staff call system, so that residents can quickly and easily get help when they need it. We also have sensors that can alert us when residents leave their flats and we can activate your flat's sensor with your permission.
Looking after your health
We can support you to manage your medication and make appointments with your GP and other healthcare professionals, such as opticians, dentists and podiatrists. We can also come with you to medical appointments if you would like us to.
Leonora House is regulated by the CQC. Click here for the latest CQC report.
Contact details
Address
Leonora House
49 Lanark Road
W9 1AP
Contact
020 7286 9226
Opening hours
24 Hour Care and Support