5 September 2017
Eammon Gilligan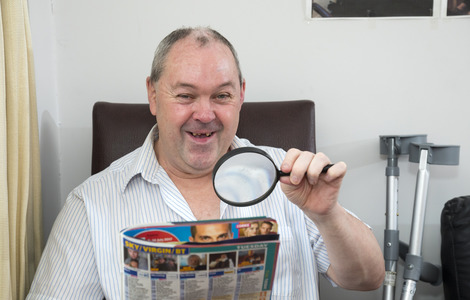 "I've lived here for seven years. I looked at two other places with my social worker, but this is the one I chose. It's nice and quiet and I like the garden. I've lived around here all my life. Walking is a bit of a challenge now, but I walk to the shops for the things I need, like a paper. Sometimes a bit of exercise helps.
"I like to socialise downstairs with other residents. I used to call the numbers at bingo. I'm good at quizzes too. I like socialising with other residents, but I know I can come upstairs and do a crossword on my own if I want to.
"My sisters visit me once a month and cook in my flat – I can't use the oven independently yet, so I watch how they're doing it and I'm learning that way. They've come over for Christmas with my nephews and nieces. The staff are great – it's always very clean.
"I like going on outings – we pack a lunch and have a day out, on the barges. I like that.
"We saw all the sights of London from the canal. All through Regent's Park, past the zoo, all through Little Venice. In the middle of Little Venice there's a bird sanctuary. I like it. Before you know the day's gone. I'd love to do that again. I went to the seaside too, but we didn't have the best weather.
"They're always organising something. It's a good thing for everybody in here.
"Every Tuesday and Friday we all eat together in the communal lounge. The staff will ask what we want for supper. I like pasta with tuna and tomato sauce. Sometimes you can even have a Sunday Roast on a Friday and on a Sunday. Yeah!"