5 September 2017
John O'Callaghan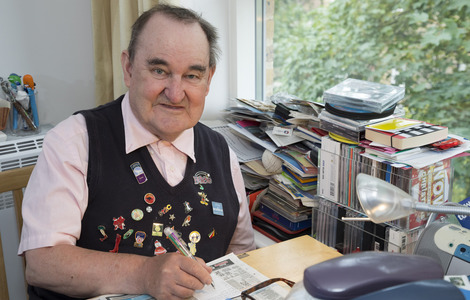 "I go to Raoul's café every day for a cup of tea. Everyone knows me around here. I moved in when it opened. Before that I lived near Paddington with my Mum and Dad.
"I like living here. The staff are nice and I can do everything I like. I watch lots of DVDs.
"I've got all my badges on my wall. I don't have a favourite, they're all my favourite. People give them to me because they know I collect them.
"I've got letters from the Queen. I write to her on her birthday and at Christmas and if she's not well. She's replied a few times. I do typing now. I can only use one hand, but I can do 25 words a minute. I've got a certificate and everything. I make calendars too.
"If I want to I can do activities, like bingo and the quiz. I like doing karaoke, I've got a machine. I sing loads of stuff."