Day care and activities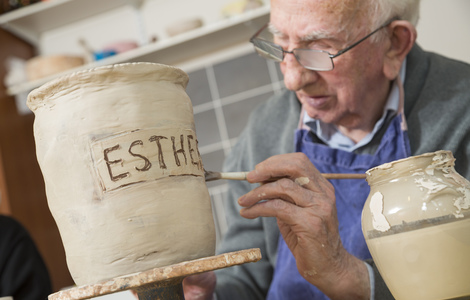 I do love the staff here. We have a laugh.
Our day care and activity schemes provide a wide range of support services as well as interesting and engaging social activities. All our staff are friendly, welcoming and particularly skilled in working with individuals who have dementia, mental health issues and physical disabilities if required.
Members can choose to get involved as much or as little as they want to and will always be involved in making decisions. If you or a member of your family are interested in finding our more, you can visit us at any centre, email or call us. We can advise on eligibility, timescales, personal budgets and paying for services, and answer any questions that you may have.
Our day care and activities help members to:
Stay social
spend time with friends old and new
have healthy two or three course lunches, plus all-day refreshments
take part in activities such as pottery, karaoke, computer usage and musical entertainment.
Take care of yourself
hairdressing
assisted bathing
personal care such as cutting nails and chiropody.
Stay healthy in body and mind
exercise with classes such as yoga and 'chairobics'
use our dementia café
get advice and support with health issues.
Get around
access transport to and from the centre
go on shopping trips and day trips.
Safety and security
experienced, skilled and regularly police-checked staff
all activities take place in safe and secure environments.
Get confidential information and advice
independent support with benefits, personal budgets and managing money
advice on your rights in different situations.
Day care and activities