The Reed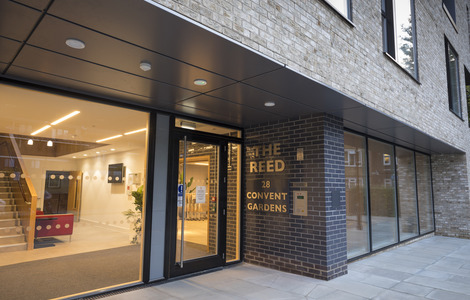 Situated on the site of the former Kensington Day Centre in Convent Gardens, W11, The Reed is a short walk from Ladbroke Grove and Portobello Road. It has a purpose built room for classes and activities plus a dedicated space for hairdressing and consultations with visiting health professionals.
The building is fully accessible to wheelchair users and has a bright and spacious lounge and dining area decorated in a café style. It also benefits from an attractive enclosed garden with seating areas and raised beds for those interested in gardening.
The Reed is a mixed aged community space. It is the home of the Kensington Day Centre, and base@theReed, a digital youth club for younger people. The Reed holds regular activities for older members, including computer skills classes, yoga, singing, history, lip-reading for beginners and life drawing. Sessions are also run by Open Age, a charity with over 20 years' experience of championing an active life for older people. They provide a range of physical, creative and mentally stimulating activities to enable older people to develop new skills, fulfil their potential and make new friends.
Further regular social events are planned, including coffee mornings and afternoon get-togethers to enable members to share experiences and memories in a warm, friendly environment.
Personal wellbeing
The Reed provides a range of personal care and support services for members including foot care and chiropody, hairdressing and assisted bathing. Friendly staff are also on hand to offer advice and resolve day-to-day problems as they arise.
Nutritious meals
A café, open to all users of the centre, offers Reed members a healthy and nutritious meal, prepared fresh every day as well as affordable snacks and refreshments.
Becoming a member
If you, a loved one or someone you care for are interested in finding out more about spending time at The Reed, please contact us for more information. You can also speak to your local social services department to find out more about being referred to The Reed.
For more information about The Reed, download our brochure 'The Reed - at the Heart of the Community'
Contact details
Address
28 Convent Gardens
W11 1NJ
Contact
0208 962 3570 / 3571 / 3572
Opening hours
9am-5pm Monday to Friday Closed Saturday and Sunday