Kensington Day Centre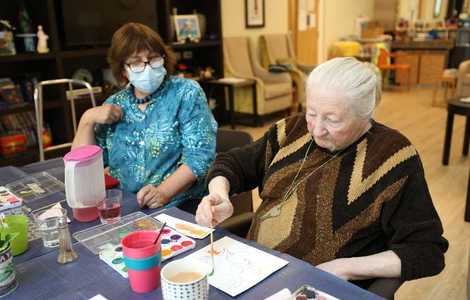 Kensington Day Centre at The Reed, London W11
Open Days in April and May
We are holding open days in April and May 2022 for non members to come a try some of the activities on offer. Find out more about joining one of our KDC open days at The Reed.
The Kensington Day Centre (KDC) offers an inclusive and accessible space for older people to meet, eat, and get active or be creative and improve their wellbeing, with the support of our friendly day-care team.
Whether you want to visit for a few hours or several days a week, relax and watch the world go by, chat and have a meal with friends, or take part in some of the many activities on offer, we have spaces for older adults living in the Royal Borough of Kensington and Chelsea (RBKC) who need some care or support.
Activities and transport
We run a variety of sessions that include
art and crafts
pottery
chair yoga and exercise
steady and stable (to improve balance and strength)
games
classes to improve your digital skills
social outings and events.
Our emphasis is on having fun and you can take part as little or as much as you like.
Kensington Day Centre programme for activities for April and May 2022:
If you need help getting to the KDC, we can help with arranging accessible transport to pick you up at a convenient time and drop you back home again safely.
About The Reed
KDC is run from The Reed – Octavia's accessible, light and modern intergenerational centre in North Kensington. KDC members can make full use of The Reed centre including the café, which offers nutritious good value lunches every day, and a secluded garden.
If you are a member of the KDC you can also be involved with other activities held at The Reed, such as intergenerational activities run by Octavia's BASE digital youth club.
The KDC is open from Monday to Friday. If you want find out more about the day centre and get a taste for see the activities on offer, feel free to pop in and have a look around. You can meet the care team and KDC members.
The day care service is commissioned by RBKC and prospective members may be able to access funding via RBKC Adult Social Care. Activities are partly subsidised by a local charity, the Friends of Kensington Day Centre. The Reed and the KDC is proudly run by Octavia.
It's great, there isn't anything like it. You couldn't have any better. They are careful with the food and you can then get a bus home after you eat or stay for a while and go home later. It has everything going for it. - Mary, KDC member
How to contact the KDC
Visit: The Reed, 28 Convent Gardens, London W11 1NJ (Close to bus routes 52, 452 and 23 and Ladbroke Grove underground station). An accessible transport service is available for KDC members.
Tel: 0208 962 3570 (The Reed) or 0208 354 5500 (general enquiries)
Email: update@octavia.org.uk
The KDC is supported by the Friends of Kensington Day Centre