Kensington Day Centre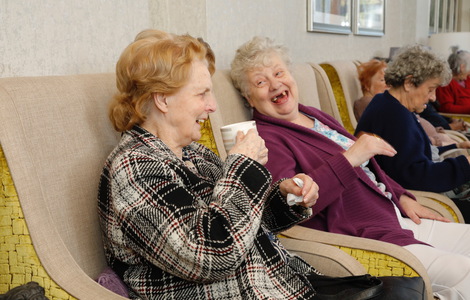 Kensington Day Centre has now re-located to its permanent home at our new community hub, The Reed, in north Kensington.
The Kensington Day Centre provides vital care and activities for older adults who want to socialise and gain access to essential personal care plans and health services.
Members make full use of The Reed including the café, where they eat a specially designed nutritious lunch each day, and the comfortable seating areas where they can meet with friends and take part in a wide range of activities. The Reed also offers a secluded garden and multipurpose activity spaces.
Sociable activities
Our regular activities include art, pottery, chair yoga, iPad classes and social outings, funded by the Friends of Kensington Day Centre. We also arrange special activities and courses for members, such as drama workshops where members work alongside local young people to develop a one-off performance based on their memories and experiences.
Personal wellbeing
We provide a range of personal care services for members, including foot care and chiropody, hairdressing and assisted bathing.
Nutritious meals
Members are provided with a daily lunch from The Reed café, which was created with help from a local social enterprise, Maida Hill Place, whose ethos is to produce healthy and nutritious food. It takes inspiration and insight from the latest research into nutrition and the impact that diet and the experience of eating together has on wellbeing.
Becoming a member
If you, a loved one or someone you care for are interested in finding out more about spending time at Kensington Day Centre, please contact us for more information. You can also speak to your local social services department to find out more about being referred to Kensington Day Centre.
Contact details
Address
The Reed
28 Convent Gardens
W11 1NJ
Contact
0208 962 3570 / 3571 / 3572
Opening hours
Monday - Friday 9am to 5pm