2 October 2014
Getting Digital at Our Day Care Centres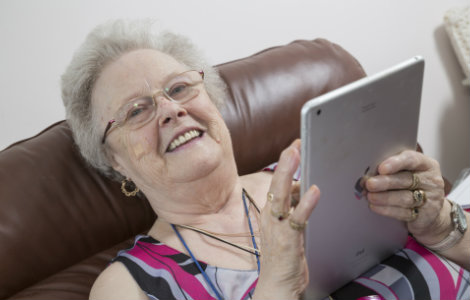 From Tablets to Apple TV
The introduction of tablets and PC's to our services has proven to be a successful way of introducing our service users to the advantages and capabilities of digital technology.
Things our residents have enjoyed doing the most:
Skype calls
Setting up email accounts
Accessing their favourite music
Group sessions
One on one time using online services in any way they choose.
Communal games of candy crush
The opportunity to all use the IPad at the same time quickly became an issue for our day centre members and the solution came through the use of Apple TV. With the IPad connect to the day centres wide screen television all the members were able to watch what was happening on the IPad via the TV. The pilot has also helped staff with communicating messages to the members during members meetings: a health promotion project is scheduled for our Kensington Day Centre members to be displayed on the television using the IPad and Apple TV.
From letters to email
One of our residents regularly sent letters to her family. With the help of our staff she set up an email account which meant she could still write to them, the delivery was instant and free. This was a huge revolution for our resident as it meant she did not have to worry about having stationary, stamps or have to wait for someone to escort her to the post box to post her letters, she was able to do all this from the comfort of the day centre, know that they had received it and get much quicker replies. Other users, who have family with tablets have chosen apps such as Skype and Facetime to maintain communication with their friends and family.