7 March 2022
­­Octavia and St Christopher's Hospice launch resource suite to support better lives for older residents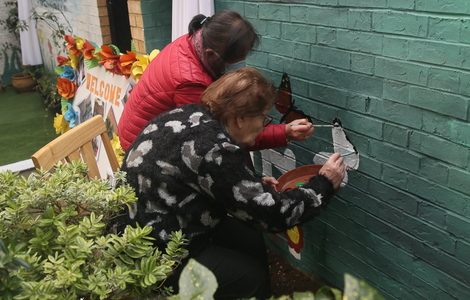 London housing and care provider Octavia and St Christopher's Hospice have launched a bespoke resource aid for care teams working in extra care housing, to promote a better quality of life for people towards and at the end of their life.
The 'Better Lives, Better Endings' resource utilises a suite of tools, to help extra care teams provide better outcomes for residents during the last years of their life, including at the end of life.
It was co-designed by Octavia and St Christopher's and guides care teams through the application of a number of available resources, enabling them to be more confident with dealing with end-of-life care and with supporting residents to ensure their wishes and preferences are met. It also helps address challenges extra care providers face with communicating, understanding, sharing, documenting and advocating for individuals' wishes about how they want to live their later years, in addition to death, dying and loss.
There is a recognised need for care teams to adapt to be more involved in supporting high levels of care right up to the end of life, in order to provide the best outcomes for people.
Extra care housing, where residents live independently in their own home but with the option of support from on-site care, is increasingly being chosen as a home for life. For many residents, their home is the place where they want to die. Care workers can enjoy close relationships with these residents and their families and can be well informed about how they want to live out their life.
The Better Lives, Better Endings resource suite supports staff and organisations to be better equipped to meet this growing need. It aids care colleagues to develop the skills, knowledge and confidence to be more involved in ensuring residents' wishes are captured, listened to and acted on in decisions about living through their older years and their end-of-life care.
Through its involvement in developing the resource, Octavia's Care team is already putting into practice a number of new initiatives across its extra care schemes. These include:
developing End of Life Champions in schemes
strengthening relationships with GPs, local hospices and other parts of the health and care system and informing them of people's wishes
developing a 'traffic light' system linked to care plans, to more systematically identify residents with increasing levels of need, and
in one scheme, at the suggestion of residents, opening a memorial garden for quiet reflection and to remember former residents who have died.
Octavia is now embedding the Better Lives, Better Endings learning with all care colleagues across its extra care schemes.
Octavia Assistant Director for Care and Support, Neil McCarthy said: "Octavia residents often live in their extra care home for many years, developing close relationships with their carers and increasingly choosing to make this their home for the rest of their life. We want them to live well through to the end of their life and this means ensuring people's wishes about how they want to live, where they would like to die, and what specific plans and preparations they want to make, are met. This resource helps give care colleagues confidence to have these important conversations with residents, capture wishes and preferences, and work with families, loved ones and health partners, to see them fulfilled."
Liz Bryan, Senior Associate of St Christopher's CARE, added: "We are incredibly proud to launch the Better Lives, Better Endings suite of resources in partnership with Octavia. With more and more people choosing to remain at home for their last few days, months or years, it's become increasingly important to empower them to make choices about the care they receive and what they want from their life and death. It is therefore equally as important to ensure that care providers are able to explain and facilitate these choices to the best of their abilities. This suite of resources is intended to help those providers be prepared to have difficult conversations and enable people to make decisions that they wholly understand and are comfortable with, leading to an increased quality of life up to and including at the end of life."
Download Better Lives, Better Endings resource suite
To access the Better Lives, Better Endings resource suite use this link
Case study - residents help create garden for relaxation and for remembrance
Through the Better Lives, Better Endings project with St Christopher's Hospice, London-based homes and care provider Octavia is leading the sector in supporting older residents living in extra care housing to have positive experiences and be able to make choices about how they want to live and what they want to achieve, to ensure they maintain a good quality of life as they grow older and that their preferences, wishes and plans at the end of their life are met.
One example of how Octavia has put this model of relationship-based care into practice is through the creation of a memorial garden at an Octavia extra care (housing with care) scheme in west London.
The idea to create a memorial garden came out of a conversation between Octavia care staff at the scheme and residents about ways in which the residents wanted to remember their former scheme neighbours who have died. An outside area was identified as an underused space, which one resident suggested could be transformed into a place for quiet contemplation and to remember their former friends. Through involvement with the Better Lives, Better Endings project, care staff were confident with discussing the idea more widely with residents, and with their consent, went ahead with the plan.
A colleague dedicated to running arts and crafts activities worked with residents to design a theme for the garden, which at their suggestion included seating and walls painted with colourful flowers, butterflies, a poem of remembrance, and a 'memory tree' with the names of former residents. Residents were involved with all aspects of the design and encouraged to help with the decorating. The garden opening was marked with a small ceremony, led by and attended by residents.
There are now plans to plant the garden with flowers in the Spring and everyone is looking forward to enjoying the space when the weather is warmer.
One resident Audrey, said of the garden: "The area was not really used properly before and now it is a peaceful place to remember the dearly departed - to honour their memory and celebrate their lives. My neighbour Robert has his name is on the wall. I have fond memories of him - he was a good neighbour and a nice person. I am looking forward to the warmer weather when I can sit and enjoy the garden and read my book."
Another resident, Joyce, added: "I feel very energised by the garden. It's important to live life every day to the maximum and to enjoy as many experiences as you can. The last two years have been very quiet with not much going on. Creating the garden has been highlight and it's important to remember the people who have lived close to you and been a part of your life."
About the project
Better Lives, Better Endings
The Better Lives, Better Endings project is a collaboration between St Christopher's and Octavia to explore how care staff and residents in extra care housing can be empowered to improve residents' quality of life and experiences at the end of life.
Designed and tested through a series of conversations and exercises involving Octavia care staff and residents, it focuses a number of available resources on empowering care teams, with little or no formal training in palliative care, to be confident about engaging with residents through a facilitated approach. It is the result of several months of collaboration between Octavia and St Christopher's over a two-year period impacted by Covid.
Extra care housing are homes consisting of self-contained units (usually flats) with design features and support services available to enable self-care and independent living. The residents of extra care homes include older people and people with dementia, who are living independently but supported through flexible levels of on-site care.
St Christopher's Hospice provides health and social care for people approaching the end of their lives. The charitable organisation was established by Dame Cicely Saunders, who is credited with establishing the modern hospice movement over 50 years ago, and their vision is of a world in which all dying people and those close to them have access to care and support, whenever and wherever they need it.
Octavia is a not-for-profit organisation that provides homes, support and care to thousands of people in central and west London. Founded by the Victorian philanthropist Octavia Hill in the 1860s, they support Londoners of all ages, giving them opportunities that will help them lead a better life. Octavia operates seven extra care housing schemes across west London.
The Housing Learning and Improvement Network champions better quality housing and services for an ageing population. With over 20,000 professional members in the UK, it showcases latest examples of innovative practice, research and innovation on its website and events.