14 April 2021
Local communities hail re-opening of Octavia charity shops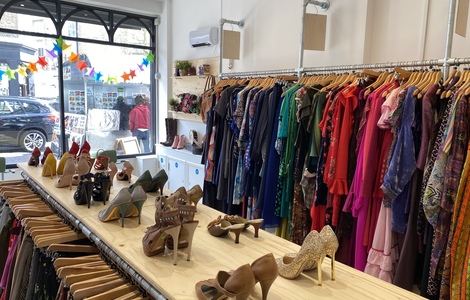 Our charity shops bounced back to life with strong trading levels and a great community response on Monday 12 April.
Beaming under their masks, members of the public couldn't contain their excitement as they entered the doors of our 15 charity shops across central and west London. The joy was echoed amongst our staff and there was a real buzz in the air as we welcomed back our valued customers.
Perfectly in tune with their vibrant locations, the shops featured striking window displays and curated collections of high-quality pre-loved, designer and high-street, clothing and accessories.
Kensington and Chelsea Mayor, Councillor Gerard Hargreaves, came along to the Golborne road branch to show his support and meet with staff, including our Chief Executive Sandra Skeete. Impressed by the pre-loved items on offer, he was also interested to hear about the reason why we sell second-hand fashion – our life-changing projects and work in the community.
Close to the junction with Portobello Road, the Golborne shop is at the heart of North Kensington – an area where Octavia has provided homes, support and care for over 150 years.
Funds raised from our shops go towards helping local people of all ages and backgrounds, demonstrating our vision to bring community and sustainable fashion together for the common good.
To make the experience as safe as possible for our customers, staff and volunteers, a comprehensive raft of safety procedures has been implemented at each of our shops, including sanitising stations, enhanced cleaning protocols and protective gear for staff.
Councillor Gerard Hargreaves said: "I enjoyed my visit to Octavia's charity shop in Golborne road. It was great to meet the staff and see the shop open for business again."
Andrew Adair, Head of Retail at Octavia, said: "The welcome back from our communities has been incredible. It was fantastic to see so many local people turn up to support the much-anticipated re-opening of our stores whilst observing social distancing measures. The snow of the morning gave way to bright sunshine which felt apt for what was a remarkable day for Octavia retail.
Octavia charity shops raise vital funds that help us reach thousands of Londoners, matching volunteers with older people, offering enriching opportunities to young people and connecting unemployed adults with opportunities for personal development. Our shops rely on the generosity of local people so please do consider supporting them by shopping, donating or volunteering with us."
All donations are welcome and can be dropped off during their new opening hours, Wednesday – Saturday, 10am-5.30pm, and Sundays from 11am-4.30pm.