12 May 2020
Octavia supports food deliveries to people self-isolating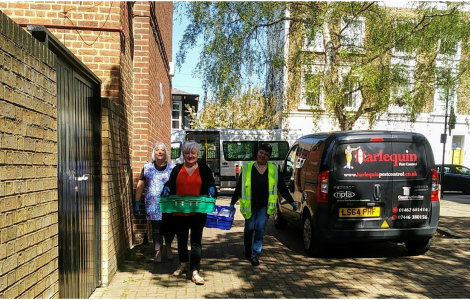 Octavia staff are delivering essential food and free meals donated by local partners to older and more vulnerable people who are isolating because of COVID-19.
We are working with organisations including Dad's House to provide hundreds of food bank food parcels to residents and other people in the community experiencing financial hardship.
Chelsea Football Club Foundation, a leading football social responsibility programme, is also supporting the effort through a donation of more than 4,000 nutritious meals to extra care residents and Kensington Day Centre members.
Dad's House is a long-standing partner of Octavia and recipient of Octavia's Better Lives Community Fund. The charity provides a number of activities for families, plus a breakfast club and legal advice. It also runs a community food bank and since the end of March, the food bank has been open to anyone that needs it during the COVID-19 pandemic.
With many families facing financial difficulties as a result of household income being affected by the virus, Octavia is using its resources to reach out to offer help. The initiative forms part of the organisation's continued effort to support the most vulnerable during the national crisis, including people living with significant frailty and illness.
Martha Moran, Octavia's Community Centre Manager at the Reed Centre, said: "Since the lockdown began, our staff have been as busy as ever supporting each other, our Local Authorities and partners, to help residents and communities through these trying times. This involves bolstering their day-to-day duties to get supplies to those who are finding it difficult to obtain good-quality food on a regular basis.
"It has been inspiring to see the humanity and togetherness of our community and we are grateful to Dad's House and Chelsea Football Club Foundation for helping us out so generously. With the crisis set to continue for some time, we will keep working with like-minded organisations so that we can grow and generate an even wider impact for our local communities."
Due to the stringent restrictions on older people leaving their homes, scaling up communication with residents aged over 70 has also become a crucial part of the support Octavia is offering. Staff members have made over 500 calls to support these residents while they are shielding or self-isolating. Around 70 have requested some form of help, mostly with shopping and collecting prescription assistance. Residents who would benefit from ongoing or a greater level of support are also being contacted on a weekly basis.
For more information on Octavia's response to the Coronavirus (COVID-19) pandemic, visit our website: www.octaviahousing.org.uk/covid-19
About Octavia's Better Lives Community Grant
The Better Lives Community fund provides grants of up to £5,000 to fund projects that help build social connections for people at risk of loneliness and social isolation within the boroughs of Westminster and Kensington and Chelsea (RBKC).