21 March 2019
Jelly babies AND chocolate chips?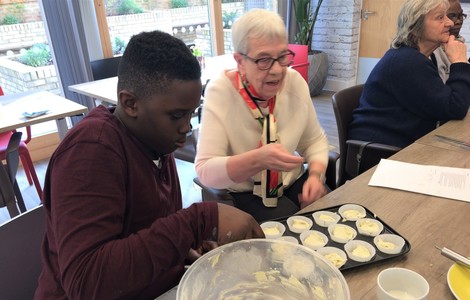 What happens when you take a group of young people, mix in some older Day Centre members, add a splash of energy, some ingredients and sprinkle in a challenge to bake the best cupcake…?
The Great BASE Bake Off that's what.
Held at the Reed, Octavia's community HUB, we hosted our first intergenerational cake-making challenge where teams were set the challenge of competing to produce the ultimate cupcake.
The result? A buzzing afternoon that encouraged intergenerational conversations, activity and appreciation. And...some unusual flavour cupcakes. Jelly babies and chocolate chips anyone?
The event was part of our BASE school holidays programme and involved local young people and members of the Kensington Day Centre who meet at the Reed. The group enjoyed it so much they plan to host another one in Easter….its set to be EGGSellent.