15 June 2016
Cockney Knees up' Day hosted at local day centre for older people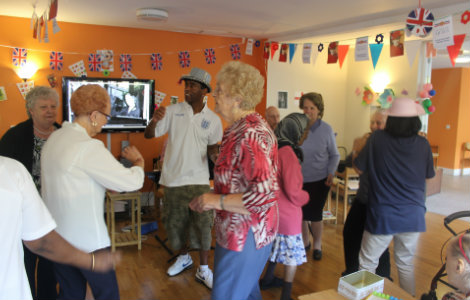 How do one group of elderly people celebrate the Queen's 90th birthday? By having a traditional cockney knees up!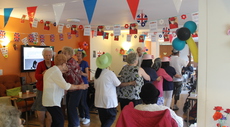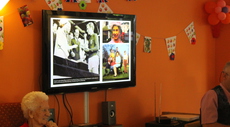 Our Kensington Day Care Centre hosted its first Cockney Knees Up day, a traditional east-end style themed party on 15 June. The centre was decorated with posters, flags and balloons. There was live entertainment by a band called, TwinTub, a stand-up comedy session and a traditional east end lunch. The event was a joint celebration with the Queen's 90th birthday and also the start of the European Championships. We spoke to a resident at our extra care scheme, James Hill House to find out if she's looking forward to the event:
I was born in the same year as the Queen, 1926. I remember seeing her in Jamaica back in the 1950's. She's so pretty and lovely, I even shook her hand. I recently celebrated my 90th birthday with residents at James Hill House. I had a party with some cake and really enjoyed this event (cockney knees up). People often ask me what my secret of staying young at 90 is - I would say it's eating good food and having good people around me.' (Ruby)

30 residents attended the event. Breeze Mckreith (Kensington Day Centre Manager, said:
We are very diverse and believe it's important to celebrate all cultures and communities. Even if all our residents can't identify with some traditions, feedback on our events has always been positive. The key thing about these events are the activities, we are trying to change the way day care centres are perceived. It's not just about sitting on a chair, we want our residents to feel they have entered into a youth centre that has lots of activities with opportunities to make new friends and help enhance their quality of life.'
We look forward to hosting many more themed parties for service users. Next month we will be hosting an African /Caribbean day.