1 February 2016
We Won at The Great British Care Awards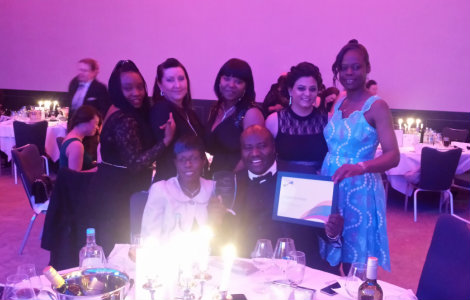 On Saturday 30th January the regional finals of The Great British Care Awards took place in London. Our extra care scheme James Hill House won the award in the 'Housing with Care' category.
The category recognises an individual or a team providing person centered services to vulnerable people living in any kind of supported housing scheme. We had to demonstrate that we are meeting a range of complex care and support needs, including interacting with the local community, being outcome focused and driven to provide the highest quality service to individuals, supporting them to remain independent in their own home and as part of the wider community.
Eric's wish was to walk again...
When Eric moved into James Hill House, a gentleman with an amputation who needed lots of support at first. The dedication of the team encouraged him to return to an increased level of independence culminating in them working with him to attend the clinic to get an artificial leg to get him back to being mobile again and having a whole new outlook on his life. Unfortunately Eric has since passed away but the story really shows how much his quality of life was improved over his last months.
For more information on the awards, please visit their website