2 October 2015
A challenge that changed a group of young people's perceptions on care homes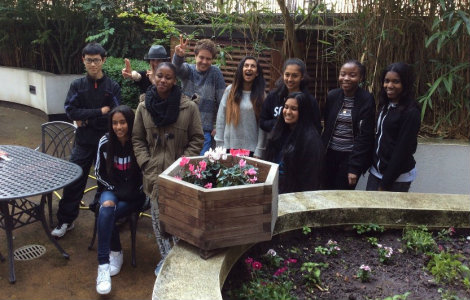 The young people were wonderful and helpful. They did very well and they were not lazy. It was fantastic to have them - they can come back again'

Linnette (Resident at James Hill House)
On Saturday 26th September a group of 16 to 17 years olds from the National Citizens Service undertook a challenge at our extra care scheme, James Hill House to help maintain their garden.
The National Citizen Service aims to bring together young people from different backgrounds towards a common course. Offering new experiences, it gives them the chance to take on new challenges, learn new skills and meet new people. This helps discover their own talents and realise their potential whilst having fun.
The young people on their visit to James Hill House, tidied, cleaned and planted flowers in the garden. They interacted with the tenants and staff to find out about their experience of living in James Hill House and what it takes to develop a career in health and social care. The team were given £100 from the NCS in advance to enable James Hill House buy any materials needed, but had to fundraise if they wanted more money.
Prior to the event, the young people went to Regents Park and raised awareness of the benefits of Care Homes and to make people aware of the difference between assisted living and independent living, and to tackle any negativity towards Care Homes. In order to raise funds, they completed a mini-telethon and then a 99 Challenge that involves walking around the streets of London and completing acts of kindness for strangers, different team-building activities and some fun games.
The team decide independently what they will campaign on, and they found that some of their own preconceptions about Care Homes were challenged by visiting James Hill House and said that they were reassured about relatives moving into residential care. They also remarked upon how hard the staff at James Hill House work, and how admirable they found this. I think these visits had a really positive effect on all the young people'
Rosie Birch (Assistant Programme Manager for The Challenge)
I thoroughly enjoyed my experience of doing the gardening, I learnt about careers in social care, social work and therapeutic gardening
Bolade (16 years old)
This is our second year partnering with NCS to host 'The Challenge' at James Hill House. This year they have assisted with the gardening but most importantly, they had the chance to have an inter-generational engagement with the residents. The young people are very enthusiastic and our residents enjoyed sharing their life stories with them'
Mohammed Gbadamosi (Scheme Manager at James Hill House)