30 September 2014
Getting people back on their feet again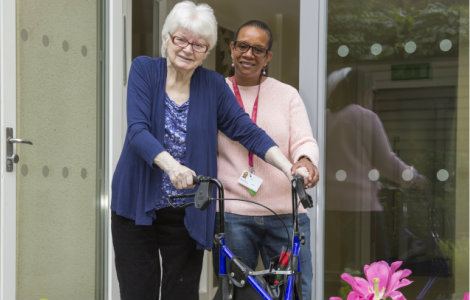 A brand new 'reablement service' for older people has been opened at James Hill House (North Kensington). The space is essentially a room designed for older individuals who have been discharged from hospital to provide an accessible and safe place for them to receive intensive support to 'get them back on their feet' and work out the best move for them. In the past people may have gone straight into a care home which may have not been the right move for them.
Working with Adult Social Care and Health services, Octavia staff have been trained to provide reabling support to people, which is benefitting all the residents at this Extra Care Scheme.
The service has already been used by a local older resident who would otherwise have had to remain in hospital. Hospital staff felt he could not go home due to risks associated with alcohol related dementia, which meant that he was unable to look after himself and was at risk.
The reablement service offered a solution as Octavia staff were able to support him to get new clothing, agree a weekly plan involving help with personal care 3-4 times a day and formulate a budget plan with him to help reduce his alcohol consumption. After three weeks, the gentleman was attending to his own personal care without prompts. He was assessed to move on to a lower supported housing scheme where he could maintain his independence with minimal support.
As a result, the gentleman was happy to be out of hospital and at James Hill House. More than this, the hospital bed was freed up for someone else in need and after working through his options he decided to move into supported housing for people needing a little support.